No recent updates in this category.
Why not...
Netwavzradio Netwavzradio hasn't earned any badges yet... have you?
General

Music

Netwavz Radio has three self-produced shows aired every week

2Fer Show, broadcast all day Tuesday. This is, of course, simply dubbed "2-fer Tuesday".



Christine and Luv Top 20 Rock Countdown, Tune in Fridays at 7:00pm for Christine and 10:00am for Luv on Saturdays..



Every Sunday morning at 10am Eastern Standard Time, is the Luv Cure Show.Where DJ Luv reads e-mails from listeners with their love problems and offers sound advise then plays a rock love song to match..




..




Live requests can be made on website during the show. There are also many new shows in development at this time, including a morning show, lunch hour show, music industry countdown, new music hours, local music hours, and much more.


NETWAVZ RADIO TURNING POINT

Netwavz is pleased to bring you indie bands that are featured on our very own " Turning Point " show These bands also have spaces here on myspace so please check them out. If you are interested in getting some internet radio airtime, or being our featured band of the month then please e-mail us at:
indie@netwavzradio.com or hit us up here on myspace.

You have that hit song? You have the demo CD? If you have that vision of success in your head, and you do have that great demo, it could be you that changes your own life. Being famous isn't impossible, it's actually waiting for anyone who really wants it bad enough. And Netwavz Radio wants to help. So if you are, rock, alternative, metal ....we want to hear from you. If this is you, Netwavz Radio is looking for you to put ur sound on our airwavz.
About me:
Extended Network Banner made with MyBannerMaker.com! Click here to make your own!
..Make your own banner at
MyBannerMaker.com
! ..
.. ..

NetWavz Radio is an internet radio station with a World Wide base that plays rock, alternative, metal, and indie music in rock-related genres. We have a full-service website located at www.netwavzradio.com. We also take requests by use of the zonkboard on the main page.

NetWavz Radio was founded in January 2005, and continues to be run by the original staff and founders. We hope, by mid 2008, to be able to upgrade to 128 bandwidth and by the start of 2009 add separate streamers by rock genres.

NetWavz Radio is also currently working with many different companies and people to becoming one of the showcased radio stations on the iTunes music program.

Netwavz Radio is one of the leading Rock Radio Stations on the internet today. Catering to all ages, we ARE your online Rock Authority. We have DJs on hand twenty four hours a day to take all your requests and help you get your rock fix! With an International group of DJs and promoters we are taking the world by storm and holding no prisoners.

At Netwavz we dont split hairs about our music. Its Rock! Crank up those speakers and prepare to lose your mind to a gut wrenching experience that will invade your senses. Dont settle for anything but the best..tune in Netwavz Today!!

You Want ROCK?? We Got Your ROCK Right Here! Playing All The ROCK You Can Handle..Right Here on Netwavz Radio.


LOCK IT AND ROCK IT


.. ..

Would you like to stream netwavz from your myspace page? Then copy this code and paste it into your music section, and give us a shout on our comment box and let us know netwavz radio rocks you!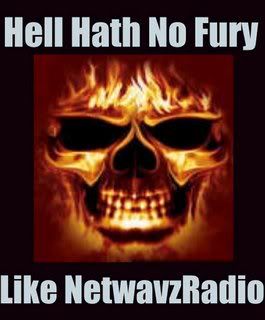 Who I'd like to meet:
THIS MONTHS ARTIST SPOTLIGHT
Disturbed

Heavy metal band Disturbed came together through the matching of a band with a singer. Longtime friends Dan Donegan (guitar), Mike Wengren (drums), and Fuzz (bass) played together in Chicago for some time before hooking up with singer David Draiman around 1997.

Draiman had grown up in a religious family against which he rebelled, being expelled from five boarding schools in his adolescence. His anger found an outlet in the thrashing sound of Disturbed, and the band built up a following on Chicago's South Side before a demo tape led to their signing to Giant Records, which released their debut album, The Sickness, in March 2000. The band gained more fans and exposure playing the main stage of the 2001 Ozzfest, then breaking away to do their own self-described "victory lap" around the U.S. that fall. Also during this period, they managed to record a vicious new version of wrestler Steve Austin's theme song that was so good it managed to receive radio play, and they were one of the many bands announced to work on a high-profile Faith No More tribute album.
Disturbed stepped into the studio after stepping off of the road and began work on a new disc that would reflect their growth as a band. Feeling experimental, the bandmembers worked with producer Johnny K and mixer Andy Wallace in order to create an album that could compare to other classic metal records they admired. Amplifying their fondness for groups like Judas Priest, Iron Maiden, Pantera, and Soundgarden, Believe was released in the fall of 2002 and was recognized as a heavier, more varied, and ultimately superior record to their debut, ultimately reaching the top of the Billboard 200. After completing a tour to support the album, Fuzz left the band and was replaced by former Union Underground member John Moyer. The tour document Music as a Weapon II appeared in 2004, followed by the ambitious studio full-length Ten Thousand Fists in September 2005 and Indestructible in 2008. In 2010, Disturbed released their fifth studio album, Asylum. William Ruhlmann & Bradley Torreano, Rovi


THIS MONTHS TURNING POINT
Feud
Feud is an anthemic, mainstream, hard-hitting rock/grunge band based in the South of England, a band who prides itself on live performances and song-writing abilities, with the ability to deliver them both in the studio and on stage with energy, power and noose-tight playing.
The band originates in South Africa, where brothers Greg & Guy started to write songs that made their way into the Feud set. Having relocated to the UK, they set about putting together a band that could draw from their influences, yet sound unique.
'...If you like your Grunge, and Post-Grunge, with more testosterone, greater technique and better musicianship than the average crew of check-shirted, dirty-haired Seattle Scene-imitators then this lot should tick your box...' - New Rock Music
'...one of the best unsigned British modern rock bands around...' - Fireworks Magazine
'...with a good set of songs, noose-tight playing and an assured presence they'll surely go far...' - Alec Kingham, Reading Chronicle
'...the track Spilt Milk is a mammoth punk infused riff sure to get the adrenaline pumping live...' - B2B
Status:

Single

Zodiac Sign:

Aquarius