Seefeel's eponymous LP, Seefeel, is out now!

Preview and purchase Seefeel at BLEEP.
Preview and purchase Seefeel at iTunes.
Or, you could get it at Amazon.






Also, you should really sign up for the Seefeel mailing list on Warp.net. On top of getting the latest news you'll receive some free .mp3s as well!
Seefeel can also be found (and, of course, 'liked'/'followed') on Facebook and Twitter!

Seefeel stalwarts Mark Clifford and Sarah Peacock are now joined by new members Shigeru 'Shige' Ishihara on Bass and Iida 'E-Da' Kazuhisa on drums. With a new lineup and an upcoming tour, Seefeel are set to introduce a new generation to their unique genre-hybrid sound combining acoustic instrumentation with electronics for an oft-imitated but never duplicated result!

To commemorate the release of Seefeel, here is a filmed section of Seefeel's September, 2010 headlining London show at the Institute of Contemporary Arts...
Also, please check out the upcoming live dates posted under Shows & Events and grab your tickets for Seefeel's upcoming shows (ticketing info provided within event pages)!





Bio & Discography




Before the seemingly effortless cross-pollination of rock and electronica entered the mainstream as it has today, there was Seefeel; a UK based four-piece composed of Mark Clifford on guitar, Sarah Peacock on guitar and vocals, Daren Seymour on bass and Justin Fletcher on drums. Like the amorphous sounds they have brought to our ears, Seefeel have ebbed and flowed to and from existence. Many have remained fans to this day even though, until recently, Seefeel had been on an open-ended and indefinite hiatus. In spite of operating under the confines of relative obscurity, the importance of Seefeel's existence cannot be overstated; they provided a bridge between the electronic nouveau and the rock music old guard, being ultimately instrumental in opening up the parallel reality of electronic music to more adventurous members of the indie scene.

Seefeel first emerged at a time when conventional guitar music was stagnating; Grunge, with it's iconoclastic visual and aural aesthetic, was subverting the excesses of post-1980s arena rock and subsequently hijacking mainstream audiences hungry for something new. More experimental genre offshoots like Post-Rock and Shoegaze were pushing genres forward further still by placing emphasis on aural textures created by guitars rather than 'earworm' chord progressions and other more traditional structures. To the far left of it all was a curious musical development whose heart beat to a time-measured circuitry of sequencers, samplers and drum-machines; spurred on by the synthetic revolution of the 1980s, electronic music was coming into it's own as technology was finally able to accommodate it's boundless compositional potential. Perhaps instinctively the members of Seefeel, under the guise of a conventional four-piece guitar band, tapped into these vanguard movements and technologies, fusing them into a new sound altogether; one with the humanity of a band and the inhumanity of a machine. Back in the mid ninteen-ninties Seefeel sounded like nothing else at the time and, in the wake of countless contemporaries, still sound fresh and unique today to those who would newly discover their catalog.

Seefeel formed in early 1992; "I put adverts up and just saw loads and loads of people, really" Mark Clifford detailed in a 2003 interview with 'Perfect Sound Forever'. "I was the one who kind of looked for people to start the band, and basically it ended up consisting more of people who I got along with personally than people who were great musicians or anything". Six months later the lineup was complete. Friend and fellow musician Mark Van Hoen played bass initially but was later replaced by Daren Seymour. Though not officially part of the Seefeel lineup thereafter, Van Hoen continued to be involved with the band; principally as their live sound engineer. Each member brought a different musical aesthetic and expectation to Seefeel's initial sound. "The first demos we did and the first couple of gigs... there was probably more song structure to them, but they still weren't verse/chorus" detailed Mark.

The members quickly realized how compositionally restrictive traditional songwriting structures were and began experimenting with samplers. Shortly after disseminating several demos to local labels, they were picked up by 'Too Pure'; a burgeoning label then in vogue as the next '4AD' with it's full roster of more unconventional acts. Early recording sessions soon yielded their first EP, 'More Like Space', whose thick and fuzzy treated guitar melodies supplanted more conventional synths; fading in and out of the mix anchored only by minimal percussive elements and Sarah's gossamer, often wordless vocal. This aesthetic for FX-swathed guitar loops with predominately electronic-sounding percussion and Sarah's vocals carried over to their next EP, 'Pure, Impure', to which Richard 'Aphex Twin' James famously contributed two remixes. This sound was honed and ultimately perfected on their first full-length album, 'Quique', in late 1993; an album held in high regard by many as Seefeel's most exemplary work.

Following 'Quique', as subsequent recording sessions yielded a more and more introspective and experimental electronic sound, Seefeel decamped to the Sheffield based electronic label 'Warp Records' in 1994. Although containing the essential elements of their previous work, Seefeel's output on Warp delved more into abstraction; often containing a pervading dark and oppressive atmosphere. Although featuring these menacing sensibilities, 1994's 'Starethrough EP' retained some of the astral lightheartedness of 'Quique'; a track like 'Spangle' could be called anything but menacing with it's twinkling coruscation of melody and Sarah's ethereal vocal contribution. The EP to follow, 'Fracture / Tied', was almost entirely beat-driven with only rudimentary hints of melody. The skeletal mainframe of this new aesthetic culminated with a second studio album, 'Succour', in 1995; driving electronic percussion, dubby basslines and obtuse, paranoid guitar melodies abound. Sarah's voice sounds synthetic and almost alien in the barren, lunar atmosphere's that 'Succour' evokes.

In 1996 Seefeel released their third studio album; (Ch-Vox), on friend Richard James' 'Rephlex' imprint. (Ch-Vox) represented an even further progression of Seefeel's continuing abstraction; the beats are almost entirely whittled away, supplanted instead by droning tapestries of processed guitars. Breathtaking as it is alienating, (Ch-Vox) was heralded at the time as an unforgettable, if not triumphant, goodbye for the band.

As creative tensions mounted, the members of Seefeel parted ways to explore other avenues of musical creativity. Sarah, Daren and Justin, along with long-time Seefeel benefactor Mark Van Hoen, formed ' Scala'; focusing on tighter song-structure which underscored Sarah's vocals. Mark Clifford continues to release music under a wealth of aliases and collaborative projects including ' Disjecta', ' Woodenspoon', ' Sneakster' and ' Cliffordandcalix'. Mark has also remixed other artists ranging from Autechre to the Cocteau Twins and, as of 2003, runs his own ' Polyfusia Records' label.



....



More Like Space EP - 1993 - Too Pure Records


Seefeel's debut release.

Tracklisting:

1 - More Like Space (8:44)
2 - Time To Find Me (Come Inside) (5:05)
3 - Come Alive (5:06)
4 - Blue Easy Sleep (4:41)





Pure, Impure - 1993 - Too Pure Records


A compilation of the 'Plainsong' and 'Time To Find Me' EPs. Another compilation titled 'Polyfusia' was released the following year in the US on Astralwerks combining both 'More Like Space' and 'Pure, Impure'.

Tracklisting:

1 - Plainsong (6:58)
2 - Moodswing (5:40)
3 - Minky Starshine (10:39)
4 - Time To Find Me (AFX Fast Mix) (7:32)
5 - Time To Find Me (AFX Slow Mix) (9:29)
6 - Plainsong (Sine Bubble Embossed Dub) (8:43)





Quique - 1993 - Too Pure Records


Seefeel's debut LP. The album title is properly pronounced 'keek'. 'Plainsong', as it appears on this album, is different from the version present on other releases.

Tracklisting:

1 - Climactic Phase #3 (8:23)
2 - Polyfusion (6:22)
3 - Industrious (6:38)
4 - Imperial (6:37)
5 - Plainsong (7:40)
6 - Charlotte's Mouth (7:25)
7 - Through You (5:46)
8 - Filter Dub (8:45)
9 - Signals (5:47)





i-01 - between 1993-'94 - not on label


A white-label, vinyl-only EP; limited to 500 copies and independently distributed at Seefeel gigs.

Tracklisting:

1 - Stare Through (Charlotte's Dub) (7:37)
2 - Signals (Momentum 1.3) (8:31)
3 - Filter Dub (Low Pass) (9:34)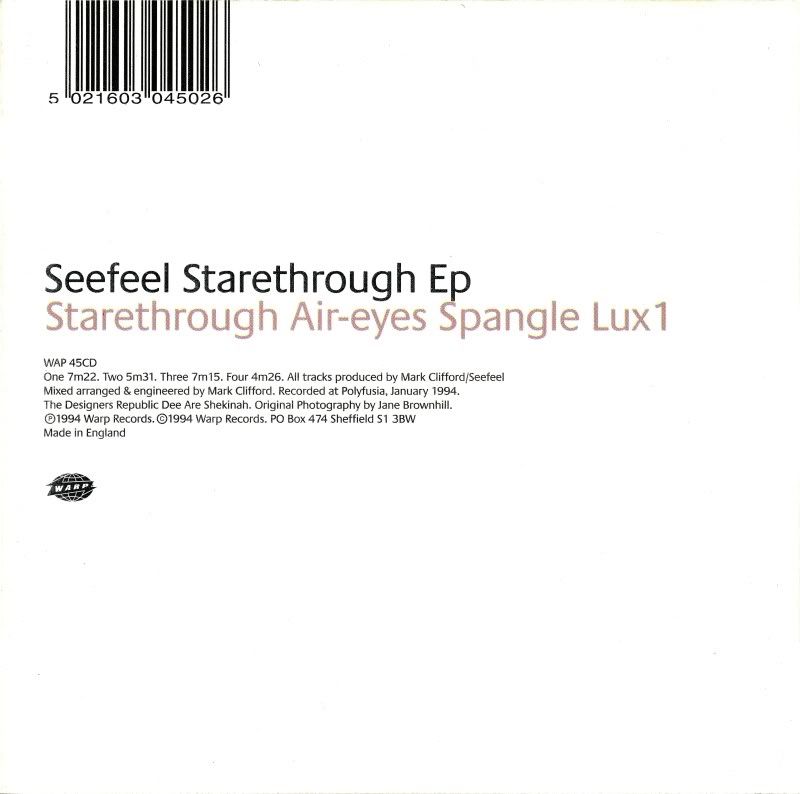 Starethrough EP - 1994 - Warp Records


Seefeel's debut on Warp Records. 'Spangle' was also prominently featured on the Warp Records compilation 'Artificial Intelligence II'. In 2003 a 12 minute remix of 'Spangle' (produced by Autechre originally in 1994) was released titled 'Autechre Remix Of Spangle By Seefeel' on Polyfusia Records.

Tracklisting:

1 - Starethrough (7:46)
2 - Air-Eyes (5:32)
3 - Spangle (7:21)
4 - Lux1 (6:03)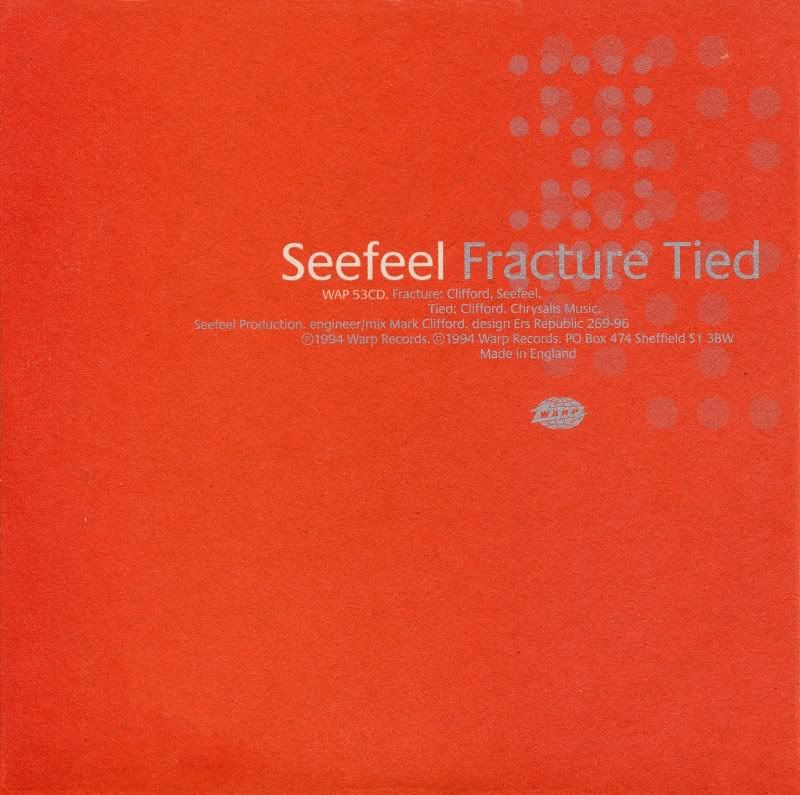 Fracture/Tied - 1994 - Warp Records


A music video for 'Fracture' originally produced in 1994 is featured on the DVD 'Warp Vision: The Videos 1989-2004'.

Tracklisting:

1 - Fracture (5:55)
2 - Tied (6:35)





Succour - 1995 - Warp Records


'Tempean' is a hidden track, beginning 05:08 into track 10, 'Utreat'.

Tracklisting:

1 - Meol (5:51)
2 - Extract (7:28)
3 - When Face Was Face (6:03)
4 - Fracture (5:52)
5 - Gatha (6:00)
6 - Ruby-Ha (6:08)
7 - Rupt (6:29)
8 - Vex (4:25)
9 - Cut (5:40)
10 - Utreat/Tempean (7:52)





(Ch-Vox) - 1996 - Rephlex


Properly pronounced 'chuh-vox', this mini-album was Seefeel's debut on Richard D. James' Rephlex imprint.

Tracklisting:

1 - Utreat (Complete) (4:31)
2 - E-hix² (5:07)
3 - Ch-Vox (6:46)
4 - Hive (5:18)
5 - Ashdeacon (5:25)
6 - Net (6:11)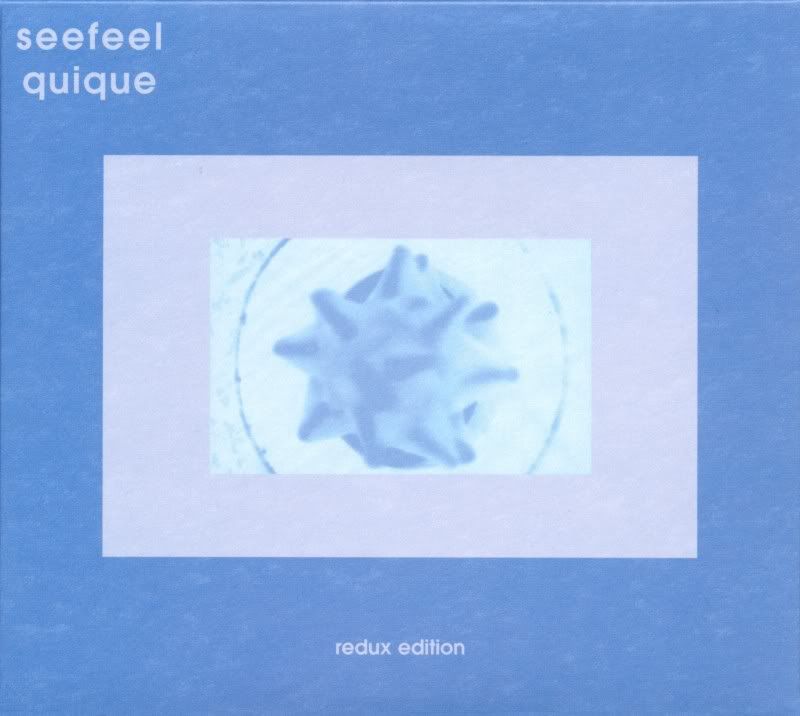 Quique (Redux Edition) - 2007 - Too Pure Records


Two disc 'Special Edition' of Seefeel's debut LP 'Quique'. Disc one contains the original album tastefully remastered (ie: not brickwalled to all hell). Disc two contains rare and previously unreleased Seefeel material.

Tracklisting:

Disc One
1 - Climactic Phase #3 (8:24)
2 - Polyfusion (6:23)
3 - Industrious (6:40)
4 - Imperial (6:40)
5 - Plainsong (7:43)
6 - Charlotte's Mouth (7:27)
7 - Through You (5:48)
8 - Filter Dub (8:46)
9 - Signals (5:47)

Disc Two
1 - Clique (5:28)
2 - Is It Now? (4:23)
3 - Filter Dub (i-01 Mix) (9:40)
4 - Come Alive (Climactic Phase #1) (5:41)
5 - Time To Find Me (Alternate Desk Mix) (5:20)
6 - Charlotte's Mouth (Avant Garde Mix) (7:27)
7 - My Super 20 (6:31)
8 - Climactic Phase #3 (Overnight Mix) (8:31)
9 - Silent Pool (7:02)





Faults - 2010 - Warp Records


Seefeel's first recording with bassist Shigeru Ishihara and drummer Iida Kazuhisa.

Tracklisting:

1 - Faults (4:57)
2 - Crowded (5:01)
3 - Folds (4:22)
4 - Clouded (4:40)





Seefeel - 2011 - Warp Records


Released 14 years after their previous LP, (Ch-Vox), Seefeel marks a triumphant return as well as a new beginning for the band.

Tracklisting:

1 - O-On One (1:03)
2 - Dead Guitars (6:25)
3 - Step Up (1:04)
4 - Faults (5:45)
5 - Gzaug (2:48)
6 - Rip Run (7:02)
7 - Making (5:53)
8 - Step Down (0:52)
9 - Airless (5:41)
10 - Aug30 (5:47)
11 - Sway (9:18)

-Bonus Track for Japan-
12 - Twojam (2:59)

Genre: Dub / Electronica / Shoegaze

Location London and South East, Un

Profile Views: 328655

Last Login: 5/3/2013

Member Since 1/3/2007

Website http://www.msplinks.com/MDFodHRwOi8vYml0Lmx5L2ttUW5pOQ==

Record Label Warp Records

Type of Label Indie

Bio

Members

Influences

Sounds Like

Everything, and nothing.
Mark Clifford - Guitar & Programming
Sarah Peacock - Guitar & Vocals
Shigeru Ishihara - Bass
Iida Kazuhisa - Drums & Percussion

Seefeel has 7495 friends.